What is an organization's financial impact from increased employee engagement? ROI of Engagement is a concrete compilation of current scientific studies showing the connections between increased employee engagement and the organization's financial gains.
After reading the ROI of Engagement, you will know of: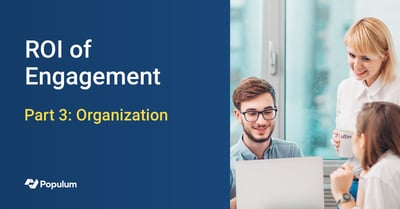 The overall financial impact of a motivated and engaged workforce.

How an increase in employee engagement affects organizations' revenues and costs.

Concrete numbers that you can use to calculate the effect of increased employee engagement in your organization.
Employees are the organization's most valuable asset. Their commitment is crucial to reaching your goals. This guide is Part 3 in the Science of Engagement series. It is intended to be read independently and as a build-up to Part 1: Chemicals of Engagement and Part 2: 9 Drivers of Engagement.
An increased commitment strengthens your organization
Increased employee engagement directly impacts the organization's financial results by contributing to increased revenue and reduced costs. In addition to direct effects on revenue and costs, increased employee engagement also provides several bonus effects that are reported separately at the end of this guide.
Read the full guide here: