Managers are today often burdened with a lot of administrative work that deprives them of spending enough time on their team members' well-being, operational support, and goal achievement. At the same time, pressure from above is often high.
Managers are expected to present results, develop the team members, and keep happiness and well-being high, often while both delivering on today's offering and helping to innovate tomorrow's. Several reasons contribute to why managers today feel stressed, and the mental pressures of leadership are too often not dealt with until it is too late.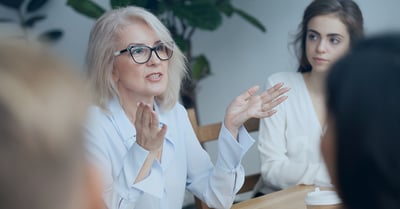 The manager's experience
Instead of letting managers become overworked and stressed out, there are smart, systematic ways to approach their work environment and know where to focus support for sustainable leadership.
Many organizations today work with the employee experience and employee's work environment using their modern employee survey. However, most platforms are built to understand the individual contributor's experience, not the manager's. Instead, a platform that is designed for the entire organization allows you to gain more insights from existing data and work with your managers' work environment as well as the employees'.
Work environment
A manager's work environment consists of the settings in which they work and the mental experiences the manager has. So, office interiors, cubicles or open landscapes, and policies as well as management's leadership styles, culture, and company politics influence the work environment. Certain aspects matter more to some managers as every individual experience things from their perspective.
Because people have a subjective perception of reality, it is important to understand how every manager experiences their work environment to know their well-being and what might be in their way. From the organization's perspective, it is critical to be aware of their managers' perception because they will act and make leadership decisions based on it.
Systematically supporting managers
A People & Culture Experience platform designed for the entire organization enables HR and senior leaders to understand the managers' experience and support them when and where needed. By focusing on regularly measuring the areas that matter most for being great managers at your organization, you gain relevant insights and can act as needed. For example, you understand how your managers experience their work, where challenges are, which managers are successful and could share best practices, managers' well-being, how the culture supports the desired leadership behaviors, trends that predict sick leave, and reasons for attrition.
Not only do managers perform better in healthy work environments, but when managers have a healthy work environment and support from their superiors and HR, they better support their team members. In addition, access to relevant team insights helps managers to better inspire, develop, and lead their teams.
When measuring the manager experience with a People & Culture Experience platform, managers scoring high is a good indicator of their ability to support their team members to perform and work with their wellbeing.
Empowering managers to delegate ownership for continuous improvements
As change has become constant, a common shift in organizations today is to work more in the near term and respond to changes quicker by adopting a more agile way of working. Agility is preferred for reasons such as adaptability, speed, and engagement. Working agile is also favored over long-term projects as a neuroscience study explains, "our emotional brain has a hard time imagining the future, even though our logical brain clearly sees the future consequences of our current actions."
However, while an agile, or continuous improvement, approach sounds great on paper, it might not be as easy to implement practically without a digital tool. Using a People & Culture Experience platform enables a natural way of working with continuous improvements when added to existing processes. The measurement results become the basis for discussion during existing team meetings.
In a People & Culture Experience platform, managers are better equipped to:
Know their team members' wellbeing
Ensure a more constructive employee feedback focus
Lead an open and continuous team dialogue
Understand how their employees perceive the culture and be able to co-develop it
Know how to shift their leadership style when needed
Effectively act on current opportunities and challenges
A modern tool maximizes well-being and performance
With the right People & Culture Experience platform, you gain insight into your managers' experience and can support them as they support their team members. Shifting to a continuous improvement approach is beneficial for managers and employees. You move away from heavy administrative work and long-term goals in favor of small, manageable changes that are focused on the current situation.