Stockholm, January 17th, 2023 – Populum, a Nordic leader in employee surveys, has recruited Johan Geiding from Dustin Group to join its executive team. As of January 17th, 2023, Johan Geiding assumes the role of Chief Operating Officer (COO) and Deputy CEO of Populum.
"This internally-oriented recruitment is a key enabler to building our organization and unlocking our growth journey towards 1 million users by 2025," says Johannes Midtbö, CEO at Populum. "Johan brings new capabilities to Populum, including strong leadership and operational excellence skills and direct experience from Dustin's IPO process in 2015."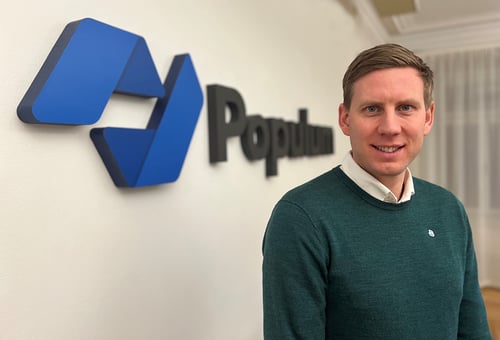 Johan Geiding is well acquainted with Populum's technology, having benefited from using the platform for multiple years when leading teams at Dustin.
"After experiencing several Employee Experience platforms at Dustin, I strongly believe in Populum's systematic and agile approach to driving motivated and engaged teams," says Johan Geiding, new COO and Deputy CEO at Populum. "Populum's unique technology is developed, designed, and delivered by a fantastic team. It is an exciting time to join and contribute to shaping Populum's growth journey."
Johannes Midtbö continues, "There are thousands of managers in the Populum platform. Over multiple years, regardless of role, Johan has consistently been a top-performing manager on the platform. We are thrilled to get the opportunity to inject his demonstrated leadership capability into our organization."
With Johan Geiding in place, Johannes Midtbö (CEO) will assume an externally-oriented role focused on new business development, partners, and investor relations. Marcus Edlund, former COO, will continue in a customer-oriented role as Chief Experience Officer (CXO).