Stockholm, March 10th, 2023 – Populum, a Nordic leader in employee surveys, has recruited Jonas Olovsson, former Head of Sales at &frankly. As of March 27th, Jonas Olovsson will assume the newly established Chief Revenue Officer (CRO) role at Populum.
"We are on an exciting growth journey, with 50% ARR increase in 2022 and already 14% in 2023 YTD," says Johannes Midtbö, CEO at Populum. "With Jonas on board, we are adding rocket fuel to our growth trajectory towards 1 million users in the next three years."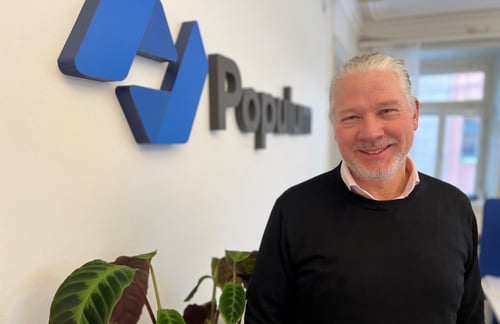 Jonas Olovsson is well-versed in the Nordic HR tech industry and a firm believer in employee well-being and continuous improvement. In the new role at Populum, he will be responsible for growth and new business development.
"I am impressed by Populum's extraordinary technology. They have a unique focus on driving team-level improvements and dialogue while empowering HR and senior leaders with market-leading analytics capabilities," says Jonas Olovsson, new CRO at Populum. "I truly believe in Populum's systematic approach to employee engagement. I know from experience that every organization larger than 500 people need this solution."
Jonas Olovsson began his career at Microsoft and has since held multiple sales leadership roles. He helped bring &frankly from 0 to 40 MSEK in sales and was most recently CRO at SP CE.
"Jonas Olovsson shares our passion for employee well-being, motivation, and organizational performance," Johannes Midtbö explains. "He brings a solid track record of driving growth in HR tech, and we are delighted to have him on board for our continued growth journey."